Gunstock Financial Audit Finds No Material Weaknesses
The county-owned resort has made regional headlines with disputes between management, commissioners, and delegation members.
Saturday, October 22, 2022, NewEnglandSkiIndustry.com
---


Gunstock's financial statement audit found no material weaknesses, Vachon Clukay & Company PC reported to the Gunstock Area Commission on Wednesday.

In late July, Representative Norm Silber (R-Gilford) appeared on Good Morning New Hampshire and stated "there's clearly inappropriate expenditures and mismanagement." Silber, an attorney, also alleged that the management walk out that month was to "head off the imminent release of this damaging information" and stated the wrongdoing was "egregious" and that "there's going to be a request for investigation and probably some aspects of it are going to be referred to the attorney general." Silber subsequently lost his re-election bid in the Republican primary last month.

According to Jarad Vartanian of Vachon Clukay, Gunstock's audit firm for the past two decades, the audit was conducted remotely and the scope was limited to financial statements.

A previous iteration of the Gunstock Area Commission appointed an audit committee, which sent a list of items to Vachon Clukay to investigate. The current Gunstock Area Commission subsequently terminated the audit committee. According Vartanian, the firm turned the list over to the Commission and offered look into the alleged issues for a fee, but the current Commission chose not to pursue the matter, with Chair Doug Lambert stating, "We feel there were no issues with those."

The county-owned resort made headlines earlier in the year when two campaign contributions were made with Gunstock Area Commission funds to Governor Chris Sununu. Management told WMUR that the donations were acceptable, because Gunstock is a for-profit business. A subsequent Right to Know request from local political blog GraniteGrok found that Gunstock does not pay the state Business Profit Tax or Business Enterprise Tax. Gunstock is registered as a State Chartered (Legislative) organization with the State of New Hampshire.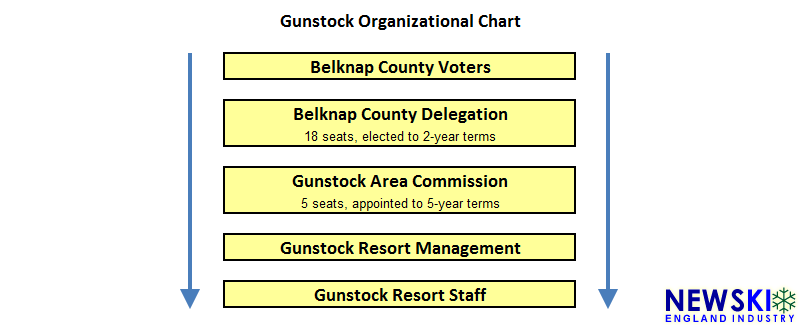 Vachon Clukay did not find any material weaknesses in its audit of the financial statements, but did cite multiple deficiencies, with Vartanian adding, "to not communicate them would have been a disservice." Vachon Clukay found the "Commission lacks formal policies and procedures," specifically "formal review or approval process over cash disbursements, payroll transactions, contracts, bank accounts, and a detailed budget of Commission expenditures." The firm also found a weakness with supporting documentation for a purchase, and that management had entered into a long-term contract without Commission approval."

Following Vachon Clukay's presentation, Commissioner Denise Conroy, who described herself as "the financial expert on this commission," took issue with the disclosure of deficiencies, calling the audit an "ugly baby." Conroy added that, "having run hundreds of million dollar enterprises," she saw the audit report as "ass coverage" and that, "as a former CEO I never would have let a letter like this hit."

Commission Chair Doug Lambert concluded that, "the Commission is motivated to move forward in concert in teaming up with management to correct these deficiencies, so I think it's a good day."

During the presentation of the audit findings, David Strang, who had been appointed to a Commission term through November, sat at the end of the Commission table. In July, the Gunstock management team resigned and stated it would only return to work if Commissioners Strang and Peter Ness resigned. Chair Ness subsequently resigned, leaving Strang as Chair Pro-Tem. Strang reportedly offered a conditional verbal resignation in non-public session. Strang never formally submitted a letter of resignation and is alleging that he is still Chair Pro-Tem of the Commission. Strang has subsequently filed suit against Commission Chair Lambert, who is receiving legal representation from Gunstock funds.

At the urging of Commissioner Jade Wood, Lambert asked Strang to leave the table. Strang asked for an opportunity to speak, but was ruled out of order by Lambert. Strang subsequently agreed to leave the table and the Commission proceeded with the agenda.

CFO Cathy White presented Gunstock financials, noting that prior to the start of the 2019-20 season, and prior to the arrival of general manager Tom Day, the resort had only $16,211 in bank, with $650,000 owed on a county-backed bridge loan and $4.2 million long term debt. As of the latest financial update, Gunstock had $6.6 million cash on hand, reduced long term debt to $2.2 million, and was no longer using county-backed bridge loans.

The county-owned and operated ski area recorded 198,000 visits in 2021-22, ending the year with net income of $3.5 million. $320,285 of Gunstock's income was paid to Belknap County.



Related Stories on NewEnglandSkiIndustry.com


More Information


comments powered by