Whaleback Moving Forward with Surface Lift Project
A used T-Bar installation is proposed for the former Poma lift line.
Thursday, July 7, 2016, NewEnglandSkiIndustry.com
---
Just days after extending a fundraising deadline, the Upper Valley Snow Sports Foundation (UVSSF) has announced it will be taking delivery of a used T-Bar lift at Whaleback. If it reaches its fundraising goals, UVSSF plans to install the lift on the former Poma lift line.

Whaleback was unable to open its main mountain last season until January 9 and struggled to keep it open until closing day on February 28. In 2014-15, Whaleback operated from January 13 until March 29. As a result of snowmaking woes, UVSSF has decided to restore the west side surface lift so that the mountain can be opened with less snowmaking.

In a May 12 release, UVSSF stated:

"To date we have raised $1,030,000 with an ultimate goal of $2,400,000. Had we been successful in raising this entire amount we are confident that our entire snowmaking system would have been modernized and Whaleback would be in a different place today.
"Unfortunately that has not been the case, and as an organization, and a business, we are at a crossroads. Something must be done in order to preserve Whaleback not only for this generation, but the next. In order for that to happen, Whaleback must become sustainable, and this cannot be delayed."

"This plan revolves around the procurement and installation of a surface lift on the West side of the mountain where one previously existed. This lift will serve lower mountain terrain of all abilities. The trail pod will give us the ability to use our existing snowmaking system with modest improvements to consistently open on time, if not earlier in most years."

A Poma lift was installed on the west side of the mountain in the late 1970s and was removed circa the early 2000s. At one point, a previous ownership group was reportedly attempting to replace the Poma with the double chairlift once located at nearby Snow Hill at Eastman. Previous management had hoped to construct one or more surface lifts by acquiring portions of various surface lifts, including a Mueller T-Bar from Moose Mountain, NH, but was unable to complete the project.

According to fundraising announcements this spring, if the UVSSF can raise $100,000, key donors will contribute $200,000 to the project. As of today, UVSSF reports $60,055 has been raised with a new deadline of July 31.

UVSSF has used part of the money raised to acquire a used Hall T-Bar from Plattekill, NY. While the lift is expected to be delivered next week, engineering and installation will require additional funds. The lift would be roughly 900 feet long by 200 vertical feet and is expected to serve three short trails.

Located just off I-89 south of Lebanon, Whaleback has struggled through numerous bankruptcies over its 60 year history. The non-profit Upper Valley Snow Sports Foundation took control of the ski area starting with the 2013-14 season. The mountain is served by a 658 vertical foot 1970 Heron-Poma double chairlift, as well as short beginner surface lifts.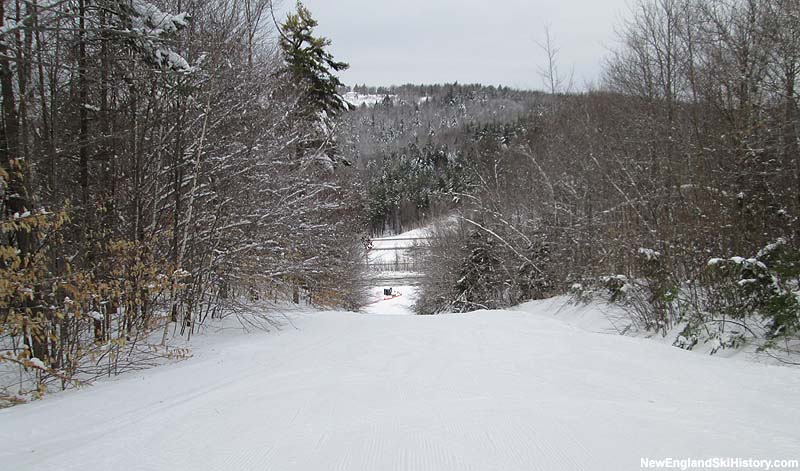 Looking down the Poma line (2014)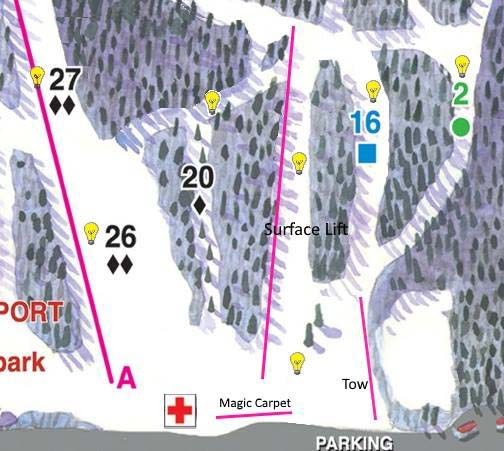 West Side proposal map



Related Stories on NewEnglandSkiIndustry.com


More Information


comments powered by