World Cup Triple Being Disassembled at Waterville Valley
The chairlift is expected to be reinstalled as part of the Green Peak expansion.
Monday, June 27, 2016, NewEnglandSkiIndustry.com
Disassembling of the World Cup Triple has commenced as Waterville Valley takes another step toward its long awaited Green Peak expansion.

The modified Green Peak Phase 1 was approved by the United States Forest Service in early 2015, after which initial lift line survey cutting was conducted. As of June 2016, no additional lift line or trail clearing has taken place.

Green Peak Phase 1 is expected to include 8 trails and 12 acres of glades serviced by a refurbished 4,380 feet long by 1,011 foot vertical World Cup triple chairlift. It is not known when the lift will be reinstalled.

Originally installed in 1985, the Albertsson-Stadeli brand lift was soon overshadowed by the installation of a high speed quad adjacent to it in 1988. The triple was rebuilt with a new Doppelmayr terminal in 2000 following a lighting strike. In recent years, the lift has seldom operated. While no replacement is expected, a second T-Bar has been discussed to serve the upper portion of the racing terrain accessed from the triple.



World Cup Triple, June 26, 2016



World Cup Triple, June 26, 2016



Green Peak Survey Line, April 2016



Proposed Green Peak Bottom Lift Terminal Location (2015)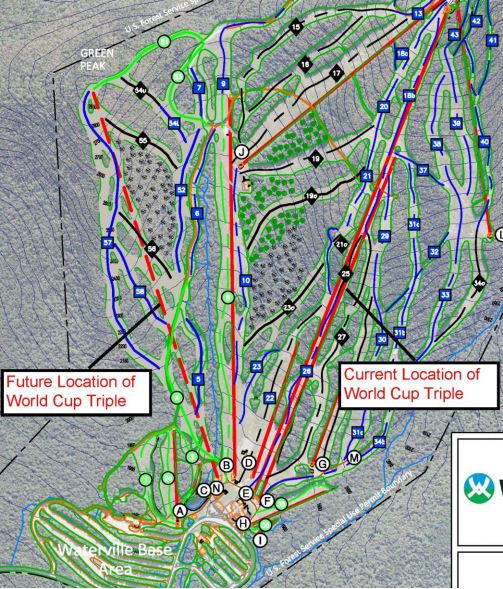 Green Peak map


Green Peak Expansion at Waterville Valley - NewEnglandSkiHistory.com

Related Stories on NewEnglandSkiIndustry.com
New Lifts Expected to Open This Weekend - February 15, 2019
Lift Construction Continues as Halfway Point of Season Approaches - January 25, 2019
Lodge Construction Projects in Progress Across New England - October 2, 2018
New Hampshire Lift Construction Continues - September 4, 2018
Waterville Valley Construction Kicks into High Gear - August 25, 2018
More Information
comments powered by