Woodbury Listed For Sale Again
The defunct Connecticut ski area previously changed hands last fall.
Thursday, July 28, 2022, NewEnglandSkiIndustry.com
---

Woodbury ski and tubing area is on the market again, this time as two separate properties.

The 20.6-acre defunct ski area is listed for $899,900 with Drakeley Real Estate as "an amazing opportunity to revitalize a Litchfield County classic" and "re-open a ski area, start a vineyard or a brewery." The property includes cafeteria, retail, and restroom facilities, as well as an apartment. The listing states that many permits have been renewed to allow for various activities.



Tubing Facility


Across the road, the 10-acre "Tapawingo Tubing" is listed for $899,900. In addition to cafeteria, retail, and restroom facilities, the building also includes an apartment.

The property was acquired Quassy Amusement Park owner Eric Anderson last fall, which hired Stevens Engineering while developing plans to reopen the tubing operation followed by skiing. According to the Republican-American, Anderson subsequently decided that "running Quassy keeps him busy enough."



Woodbury's history dates back to the early 1960s, when it was known as Tapawingo ski area. Former US Ski Team member Rod Taylor took over the ski area in 1972, renaming it Woodbury Ski and Racquet Club and improving it with a new chairlift and lodge.

As a hedge against poor winters, Taylor developed an off season business at the area, including zip lining, summer tubing, and a climbing wall. The area also developed a popular annual reggae festival.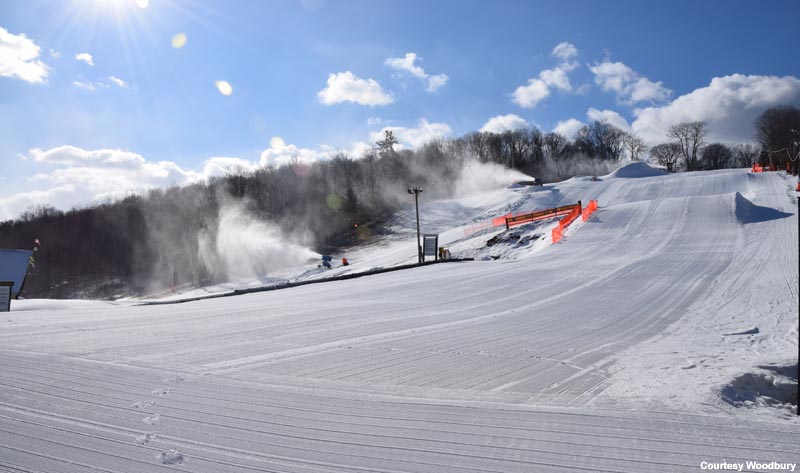 Two years after the death of its longtime owner Rod Taylor, Woodbury ceased operations in 2016. Though were efforts made to continue operations, the plug was pulled in 2019. Kara Kenney briefly explored reopening the ski area with enhanced off-season offerings in 2018. In early 2020, Art Powers approached the town with a proposal to reopen Woodbury as a concert, camping, and mountain biking venue. Powers was killed in a skiing accident at Stowe in February 2021.

In the spring of 2021, Leah Chanelle, who had a $675,000 judgement lien on the property related to a January 1, 2013 tubing lift accident, assigned her interest to Tapawingo Tubing, LLC. Tapawingo Tubing, LLC is operated by Quassy Amusement Park owner Eric Anderson. Tapawingo Tubing, LLC foreclosed on the property on October 8, 2021 and subsequently began making plans to reopen the facility.


Site of former Woodbury Ski Area back on the market - Republican-American

Related Stories on NewEnglandSkiIndustry.com
Ski Areas on the Bubble - November 15, 2021
STUDY: Probability of Lost New England Ski Areas Reopening - November 7, 2018
Woodbury Ski Area Updates Status to Permanently Closed - December 12, 2017
Connecticut and Rhode Island Lift Ticket Prices Up 2% - October 8, 2017
EXCLUSIVE: Woodbury Ski Area For Sale, Preparing to Reopen - September 12, 2017
STUDY: Probability of Lost New England Ski Areas Reopening - April 24, 2017
Woodbury Ski Season Cancelled Due to Drought - March 9, 2017
Opening Day Yet to Arrive at Multiple Ski Areas - January 18, 2017
Continued Drought Affecting Some Connecticut Ski Areas - December 28, 2016
Connecticut and Rhode Island Lift Ticket Prices Up 1% - December 6, 2016
More Information
comments powered by