New Hampshire Lift Ticket Prices Up 3%
New Hampshire remains the only northern New England state without a $100 ticket.
Wednesday, December 6, 2017, NewEnglandSkiIndustry.com
---
While neighboring Vermont saw ticket prices jump by 8%, New Hampshire has continued its more modest trend of price increases in 2017-18. Unlike Vermont and Maine, New Hampshire has remained under the $100 ticket threshold, with chairlift areas averaging $68.21 for an adult non-holiday weekend day pass.

Loon is once again the most expensive ticket in the state, posting a $1 increase to $96. Meanwhile, Sunapee jumped past the $90 barrier, increasing its rate by $9 to $93 with its installation of RFID technology.

Meanwhile, Granite Gorge had perhaps the most dramatic ticket price cut in New England history, slashing its rate by 33%, from $49 to $33. Campton Mountain remains the cheapest chairlift served ski area in the state at $20.

Tenney Mountain is planning to reopen in December or January, but has not announced its rates.

The 2016-17 statewide mean is $67.95 per adult non-holiday weekend full day lift ticket, a 3% increase over 2016-17. The median price is $75.00, a 4% increase. The 2016-17 mean was $66.11 (3% increase over 2016-17) and median $72.00 (3% increase over 2016-17).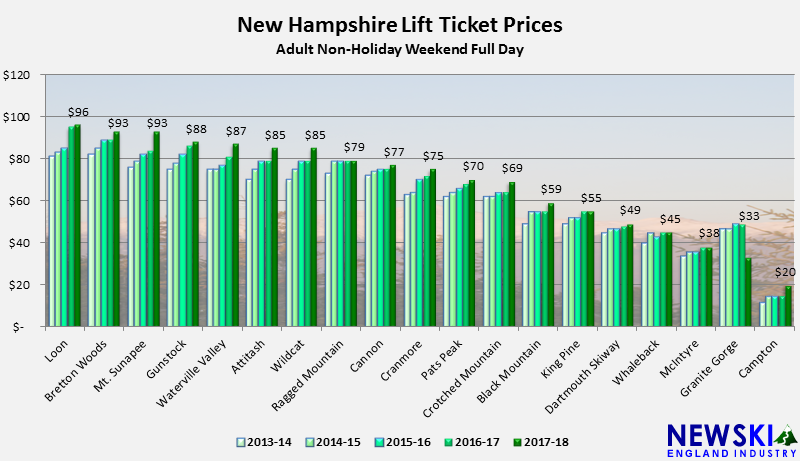 2013-14 through 2017-18 New Hampshire Lift Ticket Prices

Story updated on December 29, 2017 to reflect new Campton Mountain ticket price.


New Hampshire Historic Lift Ticket and Season Pass Price Timeline - NewEnglandSkiHistory.com

Related Stories on NewEnglandSkiIndustry.com
More Information
comments powered by