EXCLUSIVE: Interview with Eaton Mountain Owner David Beers
Eaton Mountain has suspended ski operations for the time being, but continues to offer snow tubing.
Monday, January 2, 2017, NewEnglandSkiIndustry.com
---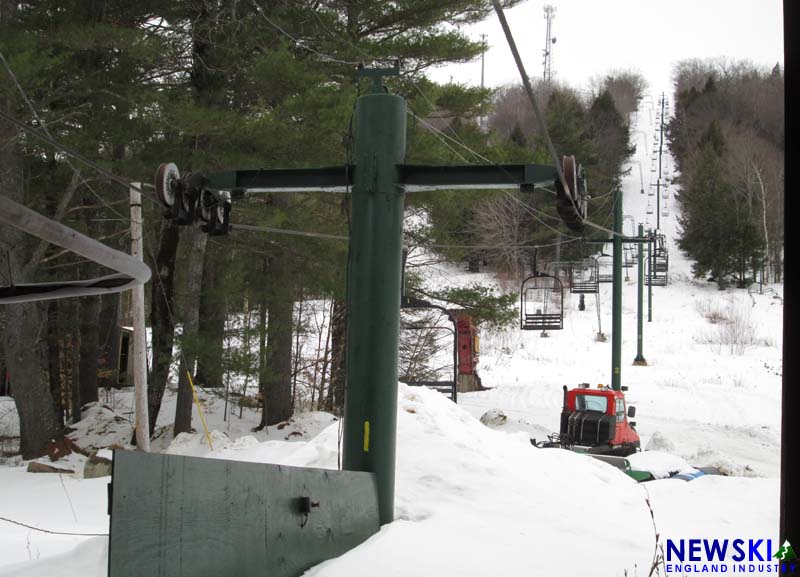 Located just outside of Skowhegan, Maine, Eaton Mountain has dealt with its fair share of issues since opening in the 1960s. At its peak, the ski area sported a double chairlift and a 500 foot vertical drop.

Once again falling on hard times, the facility closed in 2008. In 2010, David and Donna Beers opened a snow tubing facility at the area and, in 2015, a small ski slope.

In December 2016, Beers announced regular ski operations cease would for the time being. The snow tubing operation, on the other hand, has opened for the season.

Mr. Beers recently took the time to answer a few questions via e-mail about Eaton Mountain.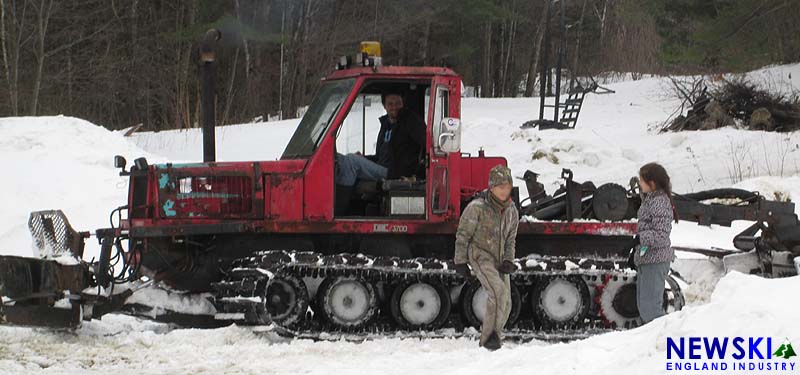 Q: You purchased Eaton Mountain in 2008. What prompted you to purchase the area?

I learned to ski at Swain in NY in the winter of 82-83, I was 12. From about the second time I went with the school ski club, I knew this was what I wanted to do. At that time, I saw a lot of small areas go away because of insurance costs and also recognized that the survivors usually had a hands-on owner/manager and were not owned as a cash cow for some far-removed entity. Everything I've done since I was 12 has been a means to reach that end. I had a subscription to SAM magazine when I was 15, attended meetings, took electrical and EMT training, majored in a field where I could get a decent job in order to make & save $, visited every past and present ski area I could find, and worked on the side for Bristol Mt, and later several winters at Otis Ridge.

By the time I was 35, I had squirreled away enough money to make a move. My wife and I had seriously looked at a number of areas including putting an offer in on one on Canada. I had only been to Maine once before the time I first met with the previous owner of Eaton Mt.

At Eaton Mt, it seemed like all the infrastructure was there (even if in rough condition), the things that couldn't be changed like location, access, and topography were all good, and there were obvious things that could be done to improve on the current situation: largely clean the property up, make safety a higher priority, phase in infrastructure upgrades and operate in a more professional manner.

Dream or a nightmare?..the jury is still out, it's been more of the latter, but I am far from giving up.

Q: What was the condition of Eaton Mountain when you purchased it? Were there any unexpected surprises?

Everything I needed was pre-existing, everything was in very rough shape. Nowhere could I take a picture of the "ski resort" we had just bought and not have it look like a tattered junkyard. The Lodge had had a fire and had been patched together. Everything "kind of...sort of" worked.

Surprises: first question I asked the first electrician I hired was "if we start tinkering with (stabilizing and gradually upgrading) this electrical system (slope lights & snowmaking) will it open a can of worms with the electrical inspector?" "No, he's seen and worked with worse cases in some area campgrounds. He'll just want to see that you're moving forward on a plan towards bringing everything up to code."

Less than 2 weeks after he started work, the inspector called to tell me I was not to use any of the existing lighting and snowmaking wiring.

Surprise number 2, previous owners had no records of the chairlift being dynamic load tested. I had an engineer do some as built plans and write up the load test procedure. We finished loading the weights iin chairs, I was telling my help about the danger of rollbacks and why the load test was important....just then one tells me "Dave, the chairlift is running." "What?" the lift rolled back about 200 ft, threw a chair off the rope and damaged the drive station. The anti-rollback device was completely out of proper adjustment. It's a one of a kind lift & has none of the original engineering docs so none of the regular lift engineers want to get involved with it- so now I need to replace it or do a major refurb/conversion. Those are the big ones, there have a hundred others, oh yeah...I get run over with the groomer too.

Q: 2016-17 will be the fifth winter in a row of tubing operations at Eaton. Are tubing visits increasing over time?

Other than last year, numbers have been slowly rising. Our park doesn't have a lot of runout area and I don't want my customers standing in long lines, so we limit our attendance at each session.

Q: You recently announced there will be no public ski operations at Eaton this winter. What were the factors behind this decision?

Family situation forced me to move to Ohio a year ago, so we're keeping the tubing going in order to keep the doors open and not lose the momentum we have in that business, but scaled back in order to make best use of my small crew of people who I can trust.

What we currently have to offer for skiing needs an aggressive leader to drive the creation and growth of learn-to-ski programs, in order to bring in enough business to pay the related snowmaking, grooming, and labor expenses, as of this past fall I hadn't found that person and not being there to do it myself, it was largely a financial decision to not run the skiing this winter. Good news is that I have found a couple of motivated and promising candidates for this role for next winter.

Q: Do you plan to be on site at Eaton at all this winter? Are there others around to operate the facility in your absence?

I might make it out once or twice in season if I am lucky, but don't know. Luckily I have a handful of reliable and trustworthy people who have been with me from the start and understand & believe in my vision for the place to keep things going.

Q: What is the current condition of the upper mountain ski infrastructure, such as the lifts and snowmaking? Are the trails being maintained?

Chairlift and T-bar both need major refurb or replacement, snowmaking water pipeline is good, all upper mt wiring for snowmaking & lighting needs to be redone, electrician rate ~$10/ft plus excavation costs. Some of the trails were mowed this fall, all were done 2 years ago, much requires hand cutting- Eaton Mt is very steep & ledgy, all need to be done this summer so we don't start growing stuff with bark on it.

Q: When do you expect to resume ski operations at Eaton Mountain? What factors will allow the area to reopen?

Trying to figure out a way to get myself back to Maine so I can be hands-on, but I need to work a "real" job (I have a chemistry degree, most of my experience is in pharma R&D, and medical testing as an analytical chemist- a hot field in Boston, but not Maine) to make ends meet.

Getting the right person to drive the learn to ski programs will be an important step, the other is finding the financing I need to re-do the chairlift and get lights & snowmaking on at least 2-top-bottom trails...looking at all creative financing scenarios to raise about $300K to do the job right.

I am very reluctant to leverage the property and take a conventional mortgage (Eaton Mt is the only thing of value I have and I am bound to have poor seasons every 5 yrs or so). If I could find a couple towns or organizations to agree to an annual block purchase of $20K in discounted lift tickets I would be all set. I'm not looking to make a killing or even a living off Eaton Mt, just want it to pay for itself and have a little left over to keep making improvements.

Q: What is your long term vision for Eaton Mountain?

Royal Mt and Willard Mt in NY are the two best examples of what I'd like to have going at Eaton Mt. I want it to be an affordable area, that doesn't have a lot of frills, but gets the important things (snowmaking, grooming, lifts, terrain mix) right.

A major part of keeping it affordable is operating as efficiently as possible and making good use of used equipment from the bigger areas. I wanted to be the biggest of the small Maine areas, a similar price point and size in terms of slope acreage, but with a bit more vertical and a much wider variety of terrain, including hardcore black diamonds. I see school learn-to-ski programs as the cornerstone of the business and that is largely dependent on attracting and motivating a strong core group of instructors. Other areas that I'm good friends with and look to for inspiration are Pats Peak, Plattekill, Nashoba Valley, and Hermon Mt.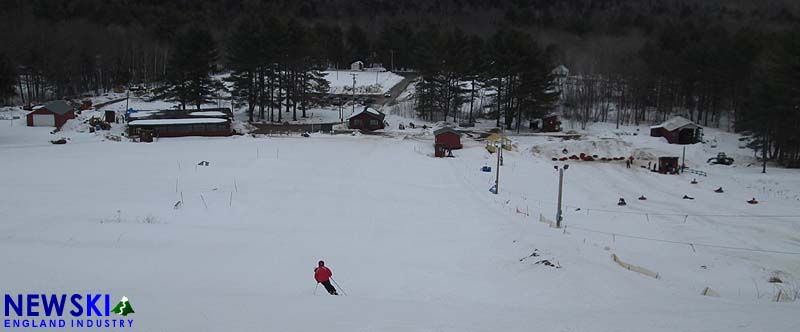 Related Stories on NewEnglandSkiIndustry.com
More Information
comments powered by