New Snow Reporting Web Site Named NewEnglandSkiConditions.com Launched
New web site features user generated conditions reports.
Monday, December 7, 2015, NewEnglandSkiIndustry.com
A new snow reporting service named NewEnglandSkiConditions.com has been launched this month, providing skiers and snowboarders with the ability to post their own ski conditions reports.

The new web site leverages the large databases that power NewEnglandSkiHistory.com and NewEnglandSkiIndustry.com, including historical opening and closing dates by ski area. Instead of using data submitted by ski areas, the reports are populated by skiers and snowboarders. Users can view conditions by state, by ski area, or by username.

User registration is free and enables skiers and snowboarders to post their conditions reports, as well as track their visits by season. In addition to standard snow conditions fields, reports also have notes about moguls, tree skiing, terrain parks, food and beverage, and lift lines.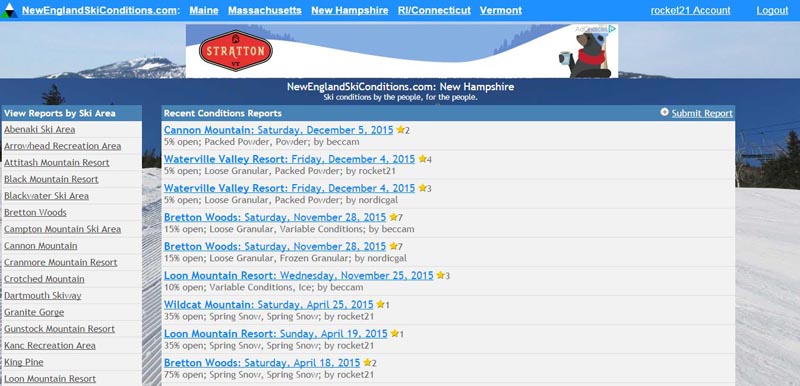 NewEnglandSkiConditions.com
NewEnglandSkiConditions.com

Related Stories on NewEnglandSkiIndustry.com
More Information
comments powered by